Undergraduate Degree in Mass Communication
Digital Media has been a great tool for the democracy and often been termed as the fourth pillar of the Governance. A strong media is an asset for the people of the country and so has its importance increased over the years in the country. With the coming of the mass media through the Government's initiative in the country has opened up new possibilities for the students as well as the companies. The media and communication has grown superficially in the country over the years and has paved way for greater values in the education sector. In the current year, Mass communication as a course has transcended various boundaries and opened up career options in varying fields.
Career options in the Mass communication
There are various career options as far as the mass communication as a course is concerned. Here is the complete list of careers one can pursue –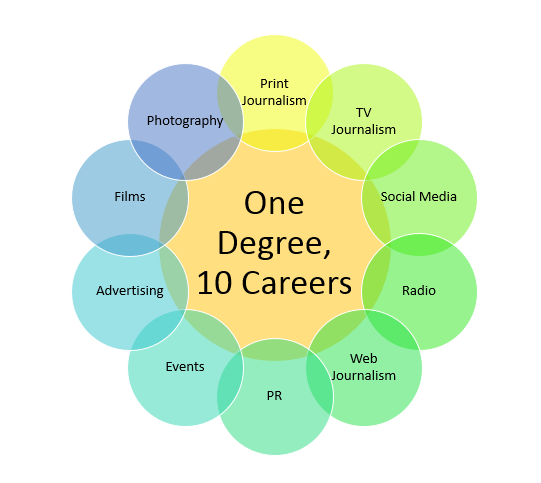 1.
Correspondent in the Newspaper or Television News platforms
2.
Writer, bloggers or authors in the Magazine or Online media
3.
Developer for the Book Publishing Houses
4.
RJ in the Radio channels or news correspondent for the AIR or Radio Journalism
5.
Film Production, Direction and other related jobs
7.
Event Management, Advertisement Agencies
8.
Campaign managers and political Ad managers
9.
Social Media Marketing
10.
Online Content Marketing and developing
Courses for Mass communication
Following are the courses for the Mass communication in the Undergraduate or Bachelor candidates. They can also opt for the Diploma courses but graduating with the degree in Journalism should be the Aim for the candidates before opting for Diploma courses –
1.
Bachelor of Journalism and Mass Communication
2.
Bachelor of Arts (Honours) Journalism
3.
Bachelor of Mass Media and Mass Communication
4.
BSc Mass Communication and Journalism
5.
BSc Mass communication
6.
Diploma in Mass Communication
7.
Diploma in Broadcast Journalism
8.
Bachelor of Science in Video Editing
10.
Certificate Course in Journalism and Mass Communication
Major Universities having Mass communication as UG courses
Click on the Name of Universities to check out more specific details about them –
Name of the University/Colleges

·

BA Hons Journalism & Mass Communication (BJMC)

·

BA Hons Multi Media & Mass Communication (BMMMC)

·

BA Hons in Hindi Journalism & Mass Communication (BHJMC)

BA (Hons) Multi Media & Mass Communication (BMMMC)

Delhi Film Institute, South Extension, Delhi

Bachelors in Mass Communication, Advertising & Journalism

International Institute of Management, Media and IT (IIMMI)

Bachelor of Mass Communication (BMC)

Jamia Milia Islamia (JMI), Delhi

Bachelor of Journalism and Mass communication
4.9
of 5